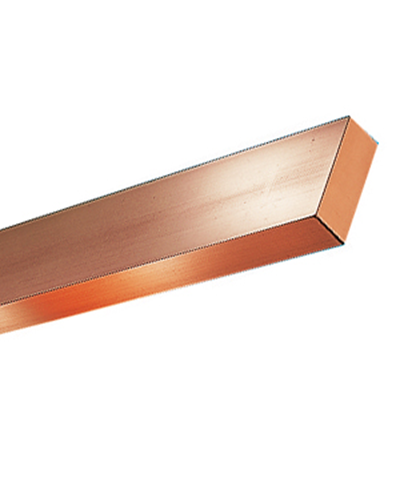 In electrical power distribution, a copper flat bar is a bar that conducts electricity within a switchboard, distribution board, substation, battery bank, or other electrical apparatus.
Its main purpose is to conduct a substantial current of electricity, and not to function as a structural member.
The material composition and cross-sectional size of the busbar determine the maximum amount of current that can be safely carried.
Copper rods are found in various applications in mechanical and engineering products - some of them are:
Electrical Industries, Engineering Industries, Hot pressing, Motors, Household Electrical Applications
CW008A, Cu-OF
Oxygen-free copper - the purest copper alloy. Refined in oxygen-free atmosphere as copper does not absorb oxygen during the refining process. Have maximum electrical conductivity and maximum coldformability when the alloy is oxygen-free is very suitable for welding + hard- and soft soldering. Primarily used where there are requirements for high electrical conductivity. Primarily bars / sheets and plates
We are not liable for items out of stock. The specified weight is theoretical. Please contact us if you have any further enquiries.
Alloys
| | Density | Bi | Cu | Other | Pb |
| --- | --- | --- | --- | --- | --- |
| Name | g/cm3 | Max | Min | Max | Max |
| CW008A, Cu-OF | 8.9 | 0.0005 | 99.95 | 0.03 | 0.005 |